The Honourable Elizabeth Dowdeswell, OC, OOnt
29th Lieutenant Governor of Ontario
Representative of Her Majesty The Queen
Honorary Patron, The Warriors' Day Parade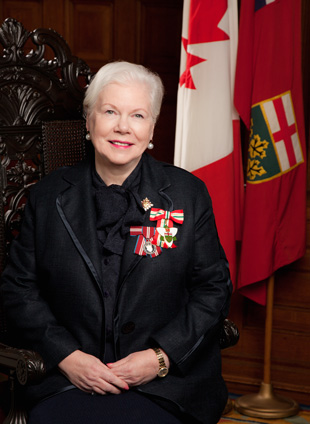 The Honourable Elizabeth Dowdeswell is an energetic and highly regarded renaissance woman, an accomplished civil servant with wide-ranging interests, and is passionately devoted to the advancement of humanity. An intelligent, perceptive, and compassionate woman, Ms. Dowdeswell has devoted herself to public service, where her talents and skills have contributed greatly to many important initiatives, most notably those that integrate environmental, economic, social, educational, and cultural concerns.

She cares deeply about the environment, which she considers the fundamental basis for life on earth. She has led provincial, federal, and international institutions, and has served on the boards of corporate and non-profit organizations. Her years as an Under-Secretary-General at the United Nations profoundly shaped her worldview and continue to inform her thinking as she undertakes her role as 29th Lieutenant Governor of Ontario.

Her overarching and ambitious vision is Ontario in the world. She wants to listen to Ontarians and engage them in meaningful dialogue about what they can contribute and learn from others in meeting the common challenges of our interconnected world. Her Honour's aim is to bring multiple perspectives to the table, encourage innovation, and cultivate new ideas, sparking action and commitment to seeing these ideas move forward.

Ms. Dowdeswell is an Officer of the Order of Canada and holds 11 honorary degrees.
© Queen's Printer for Ontario, 2015.