The 89th Warriors' Day Parade, held on August 21st, 2010 was a tremendous success! We continue to receive positive comments from both those who marched and those who watched. The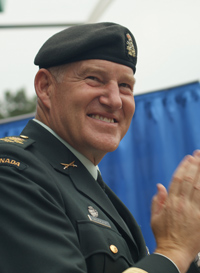 Parade was blessed again with dry weather during a weekend which saw significant rainfall. A huge crowd lined the parade route from start to finish.

Special thanks to our Chief of Defence Staff, General Walt Natynczyk who travelled from Ottawa to join us as our Reviewing Officer. We were truly honoured to have General Natynczyk with us, he is an incredible leader of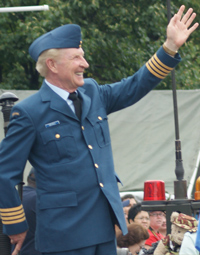 the Canadian Forces and a wonderful supporter of our Veterans. Our up-close parade format this year offered the opportunity for many personal exchanges with General Natynczyk.
Thank you to Honorary Colonel Dave Devall who was our Honourary Parade Marshall. Dave was received with great warmth by the Veterans and specators and we believe he had something to do with the great weather!
Thanks to the CNE for providing more than 3,000 seats in a prime viewing location opposite the saluting dais. We sincerely thank all of the many volunteers who have worked over the past year to make this event possible. Thanks also to the many contingents who marched in the parade and the thousands who came out to honour and cheer our Veterans and our Troops.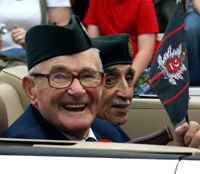 This year the parade celebrated the 65th Anniversary of VE Day, 200 Years of Cavalry and The Governor General's Horse Guards, the 150th Anniversary of The Queen's Own Rifles of Canada and The Canadian Naval Centennial.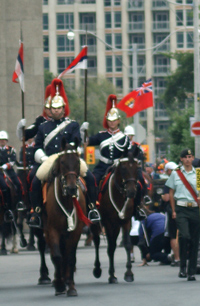 Be sure to check this website over the next couple of weeks as we post many photos and the competition results. A fantastic video summary of the parade is available on You Tube, please check it out.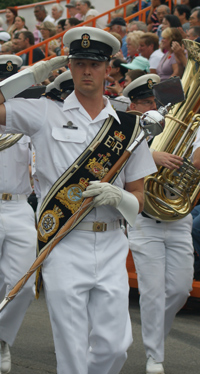 Photos of the 2010 Parade & Awards Banquet
View the 2010 Competition Results
Be sure to see our extensive trophies and awards pages.