Tens of thousands of individuals have participated in the Warriors' Day Parade since its inception in 1921 in many different capacities, as members of marching contingents, bands, spectators and volunteers. There are incredible stories to be told both from the current day and from decades ago. This page, 'Parade Stories' is intended as a venue where we can share memories and experiences. We will feature profiles of participating contingents, individual stories, family memories and some fascinating historical events. We hope you enjoy these stories. Please feel free to send us your contributions and suggestions!
_____
TAKING TIME TO THINK
by Brian Weller
The 92nd Annual Warriors` Day Parade, at the CNE on Saturday, August 17th is almost upon us but we are seeing fewer veterans every year! The challenge each of us is faced with is what will this event really mean to folks if we allow them to forget? Like Remembrance Day; celebrated on November 11th and originally created to mark Armistice Day; the end of World War I, both are simply an opportunity for folks to recognize the ultimate sacrifice made by Canadian veterans in both World Wars, Korea and various missions over the years.
However, not one Canadian veteran remains from World War I and World War II ranks are thinning dramatically. An entire generation that made such a huge sacrifice is slowly disappearing.
Assault Trooper, Al Armstrong, 8th Reconnaissance Regiment, 14th Canadian Hussars, a veteran of the Second World War who stormed Normandy, France in the D-Day invasion and now lives in Toronto, recalls a passage off a war memorial which highlights their deeds. ``They will never know the beauty of this place, see the season's change, enjoy nature's chorus. All we enjoy we owe to them. Men and women who lie buried in the earth of foreign lands and in the seven seas.``
Remembering and honouring our veterans shouldn't require a special occasion. Their exploits deserve recognition! A new generation of armed forces are now serving overseas in Afghanistan and other conflict areas and deserve recognition, also. "Our troops in Afghanistan are not buried at the side of the road or some damn field," Armstrong is quoted as saying. "They're bringing them home and that's a credit to our country."
For those who perished, their final drive home created respectful memorial services as folks lined bridges along our Highway of Heroes. Their route from Trenton to Toronto took them down the DVP under the Wynford Drive bridge. With our flags waving in the breeze, Firefighters and Paramedics saluted as folks stood at quiet attention when the procession of Police motorcycles and cruisers...and a hearse passed underneath. One could feel proud to be part of the crowd who lined this bridge.
While our present involvement in world conflict has been reduced for now, the next time one of our heroes returns home in a procession, take a few moments and go out to that bridge. It's not just that one returning soldier you're honouring, but the millions who contributed, either fighting on distant shores or building airplanes and munitions at home who have served our country in time of need.
General Douglas MacArthur once said, ``No one hates war more than the soldier,`` but the men and women of our armed forces continue a proud Canadian tradition; to maintain our freedoms...our freedom to vote, our freedom to work, our freedom to raise our families, our freedom to live in safety and security and our freedom to voice our opinion, even when not all would agree.
So, while you stand at attention and clap when you see a veteran waving from a classic automobile during the 92nd Annual Warriors` Day Parade, think for a second of the sacrifices the prior generation have made, for you!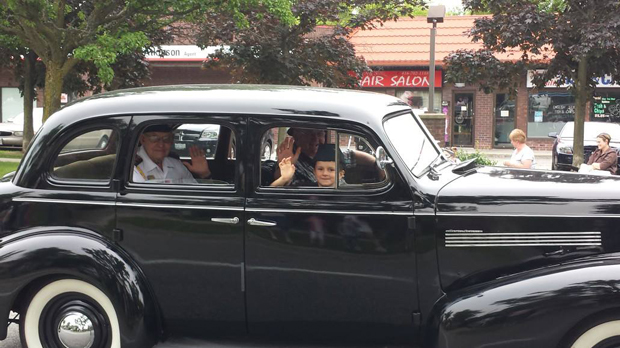 WWII Veteran Al Armstrong riding in Brian Weller's 1939 Chevrolet with Brian's grandson Evan who is wearing his great-grandfather's wedge cap.
_____
OPERATION CHASTISE
by Mort Lightstone
A few weeks ago a few of us quietly acknowledged the success of Operation Chastise and in silence mourned the aircrews that were lost on that raid. You probably have not heard of Operation Chastise. Yes you have. You know it as the Damn Busters.

The operation took place seventy years ago on the dark moonlit night of 16/17 May 1943. Under the command of Wing Commander Guy Gibson CO of 617 Squadron nineteen modified Lancaster bombers headed east on a daring raid. The target was four dams on the tributaries of the Ruhr River. If successful the operation was expected to disrupt Germany's military industrial production reducing it to a mere trickle. History refers to them as … the 'Damn Busters'.

617 Sqn was based five miles north of Lincoln at RAF Scampton. The 133 crew members were hand picked and selected from the Royal Air Force, the Royal Australian Air Force, the Royal Canadian Air Force and the Royal New Zealand Air Force.

Many challenges were overcome that night. First, navigating deep into the heart of Germany. The bombing run required demanding precision. The bombs used were designed for these targets. The Lancasters had to approach their target traveling at 240 MPH at an altitude of exactly sixty feet. A device was designed for the bomb aimer to allow him to know the exact moment to release his destructive load. Eight of the Lancasters were shot down. Fifty three aircrew were killed including fifteen from the RCAF. Three aircrew taken prisoner.

For four years starting in 1953 I became acquainted and worked with two of the Dan Busters, Wing Commander "Revie" Walker and Flight Lieutenant Percy Pigeon. The war in Korea had come to an end. I had completed 1,000 flying hours on the Korean Air Lift with 426 Transport Sqn. I was transferred to instructional duties at the Navigation School at RCAF Winnipeg. Revie Walker was the CO of the School and Percy Pigeon was in the vanguard of developing interception radar procedures needed for the new face of aerial combat – between jet propelled fighter aircraft. Both were quiet and refined gentlemen. Both calmly performed their duties efficiently. Both were fathers and treasured their families. Both respected and nurtured their staff. Both loved Canada and fought for our freedoms.

Many heroes were made that dark night. For their Herculean effort they received …
One Victoria Cross (Gibson),
Five Distinguished Service Orders,
Ten Distinguished Flying Crosses and four bars,
Two Conspicuous Gallantry Medals and
Eleven Distinguished Flying Medals and one bar
We will remember them.


The RCAF Dam Busters.
In the group photo above are 16 of the 17 surviving members of the RCAF.
STANDING Left to right:
Sgt. Steve Onancia, Bomb Aimer, Sgt. Fred "Doc" Sutherland, Air Gunner, Sgt Harry O'Brien, Air Gunner, FSgt. Ken Brown, Pilot, FSgt Harvey Weeks, Air Gunner, FSgt John William "Jack" Thrasher, Bomb Aimer, P/O George A. Deering, Air Gunner, Sgt W. G. Radcliffe, Flight Engineer, FSgt Donald A. MacLean, Navigator, F/L Joseph C. McCarthy, Pilot and FSgt Grant S.MacDonald.
KNEELING:
W/O Percy E. Pigeon, Wireless Operator, F/O Harlo T. Taerum, Navigator,
F/O Danny R. "Revie" Walker, Navigator, Sgt. Chester B. Gowrie, Wireless Operator and
F/O David Rodger, Air Gunner.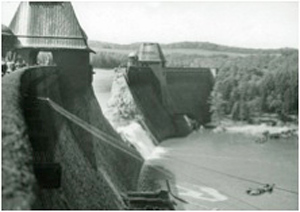 From the top of Mohne Dam, we see the extent of the fine work of 617 Squadron. Photo: Bundesarchiv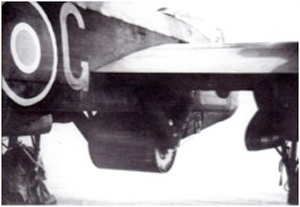 The specially designed "bouncing bomb" attached to the belly of a Lancaster.
RAF Photo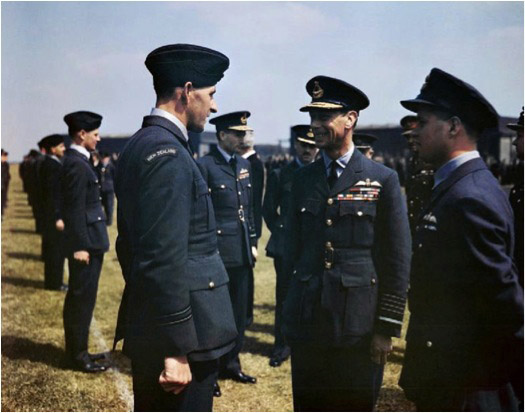 27 may 1943. HM King George VI visits No 617 Squadron at RAF Scampton. The King has is chatting with Flight Lieutenant Les Munro from New Zealand. Wing Commander Guy Gibson is on the right. Air Vice Marshal Ralph Cochrane, Commander of No 5 Group is behind Flight Lieutenant Munro and to the right. Photo: Imperial War Museum
_____
THREE MEMBERS OF THE WARRIORS' DAY PARADE COUNCIL ARE PRESENTED WITH
THE QUEEN ELIZABETH II DIAMOND JUBILEE MEDAL
LCol (Ret'd) John Burns, CD, President of the Warriors' Day Parade Council presented three members of the Warriors' Day Parade Council with the Queen Elizabeth II Diamond Jubilee Medal at the Council's Opening Dinner on April 12, 2013.
Receiving the medals were Mrs. Marjorie Harding, General Secretary and Photographer; Mr. Glenn Mills, Director and Vice-President of Administration and Mr. John Hymers, Director U.S.A. Liaison Officer and Public Relations Officer.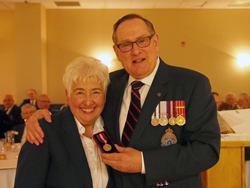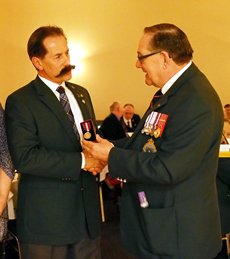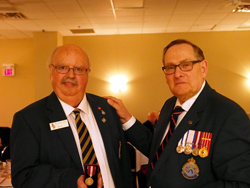 _____
MASTER WARRANT OFFICER (RET'D) LEONARD PELLETIER, CD
RECEIVES THE MINISTER OF VETERANS AFFAIRS COMMENDATION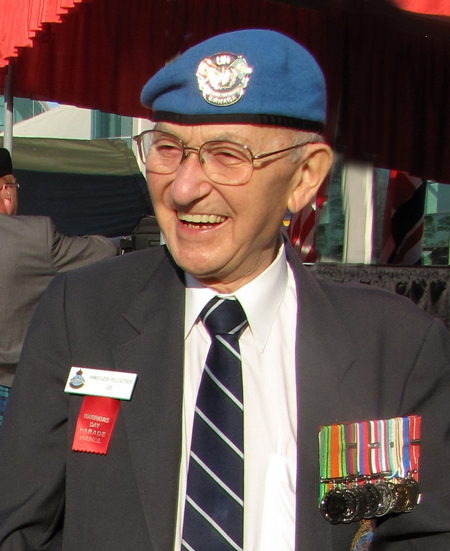 At a special ceremony held on 30 July 2012, Warriors' Day Parade Council Life Member MWO Len Pelletier, CD was presented with the Minister of Veterans Affairs Commendation by The Honourable Steven Blaney, Minister of Veterans Affairs.
MWO Leonard Pelletier was born in Toronto Ontario. His father was a wounded WW I veteran and his mother a British war bride. In 1942, Mr. Pelletier joined the Canadian Army and went on active service with the Lorne Scots and the Cameron Highlanders. He was honourably released in 1946. In October 1950, Mr. Pelletier joined the Royal Canadian Corps of Signals serving in the reserve unit in Toronto and October 1953 he joined the regular forces. Mr. Pelletier served his country in Kingston, Ottawa, Egypt/Gaza Strip in 1962 and 1963, in France and Belgium with Supreme Headquarters Allied Forces Europe 1966 – 1971, with his last posting serving as the Chief Clerk at Toronto Militia Headquarters where he retired in 1976.
Mr. Pelletier has been an active member of the Royal Canadian Legion for over 40 years. He is the past secretary of the Signals Branch of the Royal Canadian Legion. On retirement from the Canadian Armed Forces, he served as the Office Manager of the Royal Canadian Military Institute.
A Life Member of the Warriors' Day Parade Council, Mr. Pelletier faithfully served as Secretary for over 20 years. His detailed and meticulous taking of minutes for Executive and General Council meetings could serve as a model for any organization. Additionally, each year Mr. Pelletier is responsible for distributing thousands of Warriors' Day tickets to veterans and their families. Mr. Pelletier is a true professional. He very quietly goes about his volunteer work, never looking for recognition and always willing to offer sage advice and a helping hand.
The commendation recognizes Mr. Pelletier's long and distinguished service to our country and the outstanding work he continues to do on behalf of our veterans and serving members of our Canadian Armed Forces.
Read more about the Minister of Veterans Affairs Commendation.
posted 02 Aug 2012
_____
My Worst Moment
By Captain Mort Lightstone, CD.
I am a Past President of the Warriors' Day Parade Council. During the summer of 1956 and early in my air force career I was at RCAF Station Winnipeg as a young Flying Officer. I received orders to put together a Guard of Honour and prepare to greet Air Commodore Chester Hull, then on staff at Air Force Headquarters in Ottawa. I was assigned a drill sergeant, 100 men to participate in the Guard and a 35 member Air Force Band.

The Operation Order provided that this Ceremonial Event would
Be open to the public,
We had three weeks time allotted for intensive 'parade square' drilling,
Uniform designated as dress blues, wedge caps with white chin-strap,
The 100 Airmen would carry Lee-Enfield rifles, adorned with a white web 'sling' and chrome plated bayonet,
The Guard Commander, me, would be issued a 9 mm pistol, a white lanyard and a white web gun-holster, (traditionally, on parade officers carry a different weapon then that issued to the other ranks.)
All members would wear white web belts,
The Guard of Honour would complete the ceremonial parade duties on the expansive tarmac in front of 16 Hangar and
The Air Force Band will perform the required ceremonial music.
16 Hangar is a massive building with a center core three stores high. The core contains the usual offices, briefing room, a weather office and, at ground level, tool cribs, supply storage rooms and at its centre, a cavernous hall. In fact, the centre core hall was large enough to perform most of the required drilling and kept us out of the blazing sun.

We needed the 100 member Guard of Honour to move as one person on all commands given them while Air Commodore Hull was on the Parade Square. The more important of these commands were "Present Arms", "Shoulder Arms" and "Order Arms". They were keen lads and quickly went through the transition from a rag-time army to a well trained Flight of Airmen, this much to the diligent work of our professional drill sergeant. He shouted commands that had no end to how high his volume would go. With time, his vocabulary altered from nasty and offensive to flattering and admiring. After two weeks, we then drilled every second day on the tarmac enduring that ruthless prairie sun. In between, days were full dress rehearsals. Everyone was pleased with our accomplishments. Our Guard of Honour could stand with the best.

At one of the dress rehearsals, I observed that the white web belts worn by the Guard formed a perfect straight line. To my repulsion, I noticed that the weight of my pistol pulled my web belt down on the left side and made me look like a cowboy; certainly out of harmony with the Guard. I decided to ditch the pistol and fill the holster with a twisted wire coat hanger. Much better.

The big moment was almost upon us. The Guard of honour fell-in with the Air Force Band on our right flank. I gave the command, "Guard of Honour, turn to the right in column of route … Right turn". In unison, the Guard and the Band turned smartly to the right. "Guard of honour, by the right, quick march". With the first step forward, the band struck up the tune of the Air Force March. In seconds, we were parading smartly onto the tarmac. I was caught by surprise by the size of the crowd that had gathered. We moved to our designated position facing west toward the exterior of 16 Hanger. I looked at the low dais suitable for only one person. It was a short step up, about eight inches above the ground. I turned and faced the Guard and gave the order to move into Open Order and then the ceremonial Right Dress. My next two commands … "Eyes front" and "Shoulder Arms". I turned and faced the dais. There we stood. Uniforms clean, pressed, buttons and boots polished. Rifles at the slope and all of us at attention. The next thirty seconds stretched into an eternity. We were facing the early afternoon sun that was slightly to our left. There we stood.

Three cars arrived, all with fluttering bumper flags. A gaggle of senior officers gathered and chatted for another eternity. The tallest among them soon walked to the dais and stepped up. He was wearing 'Summer Dress Uniform'! His chest was adorned with an extensive row of medals.

Rather quickly he brought himself to attention. Signaling me that he was ready to proceed, he gazed at me with his face showing calm and a slight cheerful countenance.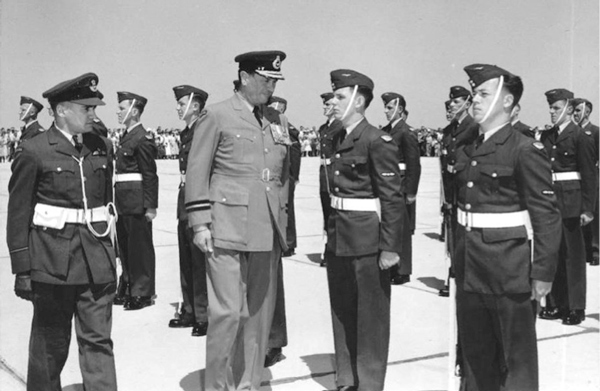 From left to right Flying Officer Mort Lightstone escorting Air Commodore Chester Hull, inspecting the Guard of Honour on the expansive tarmac in front of 16 Hangar at RCAF Station Winnipeg."

I was overwhelmed with this entire scene. Quickly, I proceeded with "Guard of Honour will advance in Review Order … by the centre … quick MARCH". With the first step forward, I listened for the 100 boots hitting the tarmac in unison and the swish of the trousers. I knew we were making a hit, I knew we were in sync and I knew we looked professional. We were a team of 101 performing in perfect harmony as though we were one. Each of the 100 Airmen were flawlessly supporting me. My chest swelled with pride. I experienced a sense of euphoria; I was so proud. As soon as I commanded "Guard of Honour … General Salute, Present Arms" the Air Force Band played the ceremonial 'salute' music with a presto tempo.

"Guard of Honour … Order Arms". Every Airman moved simultaneously and with precession. Perfect! I was so proud of this Guard. I was certain the buttons would pop off my tunic. Little did I suspect that in a few seconds my world would crash!

I marched the fifteen feet to Air Commodore Hull with my eyes riveted on the first of his medals, the Distinguished Flying Cross. As his smile slightly increased I halted, our eyes locked, I introduced myself and asked "Sir, would you like to inspect the Guard?"

"Yes" he replied, "but first I would like to inspect your weapon."

Those words were deafening and full of terror! I was caught. I was dumbfounded! It was my worst moment. I was the one that let the team down. I visualized my career shattering into a million pieces. I didn't know what to say or do.

His smile broadened. Putting me at ease he said "Let's get on with it - I've done the same thing myself!"

Sadly, I recently learned that Air Commodore Chester Hull passed on April 9th, 2012. He retired from the Canadian Armed Forces with the rank of Lieutenant-General.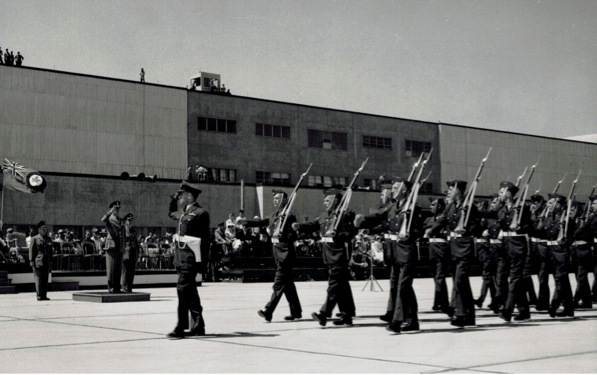 Air Commodore Chester Hull being saluted by Flying Officer Mort Lightstone and the Guard of Honour as they march off the expansive tarmac in front of 16 Hangar at RCAF Station Winnipeg."
_____

Warriors' Day Parade Communications
LCol Jack Lee, CD


Colonel Soady-Easton saw the value of using signal regiments of Toronto for Warriors' Day Parade in the early 1950's. 2nd and 8th Signal Regiments combined the wireless technology and equipment to provide the necessary communications for the judges and the Master of Ceremony. The communications used today follows the same model of those radio nets/links the regiments used provided over half a century ago.
The radio equipment the Regiments used was the venerable Wireless 19 Set, a holdover from World War II. The bulky transceivers were mounted in 30 hundred weight radio vans known as Gin Palaces, vintage vehicles of the last war. WD judges were perched high above the crowd on top of the deployed radvans for an unobstructed view of the parade route.
In the late 70's the Toronto signal unit supported militia summer training and therefore unable to continue volunteering for WD. The Council had to turn to alternate modes of communications and thus involved the ham radio operators who have been doing an enormous bang up job to this today.
Signal units of Toronto evolved from 2nd and 8th Signal Regiments which were amalgamated to become Toronto Signal Regiment and in 1966 redesignated as 709 (Toronto) Communication Regiment and this year the unit name change once again due to transformation to the Army, 32 CBG of LFCA. The Regiment is involved with domestic operations, support local reserve units and civil authorities. Many personnel volunteered for combat in the war zone of Afghanistan and peacekeeping duties around the world.
Even though the radio vans and wireless equipment are not involved because of commitment to the CF, there are reservists and retired signal personnel either serving on Council or volunteering on the day of the event. Every year the scarlet and brass of Toronto Signals Band make their presence known on this parade and winning more than their share of awards. This year the Band is celebrating 85 years in continuous service to the Regiment and the people of Ontario.
Signals in Toronto has played an important role on WD parade for over 50 years and will continue to support and volunteer their services to raise the awareness of veterans of the CF's on Warriors' Day at the CNE.
On behalf of the Signals Regimental Family, I congratulate the Warriors' Day Parade Council on its 90th Anniversary. I shall be looking forward to the centennial year.
Bravo Zulu!
_____

OSHAWA ROYAL CANADIAN LEGION
BRANCH #43 PIPE BAND
By Mal Knocker - 2011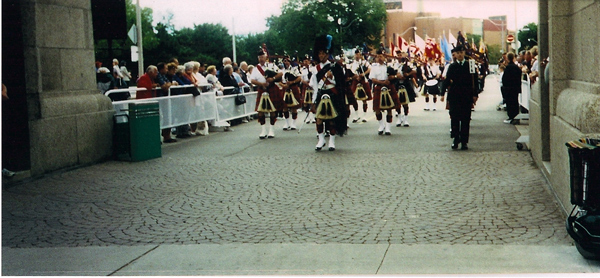 The Warrior's Day Parade. What an incredible 90 years of Canadian History.
Branch 43, Royal Canadian Legion Colour Party and the Pipe Band have been honoured to be part of the Warrior's Day Parade since 1957. Nothing can equal the pride we feel marching under the Archway of the Princess Gates knowing of the hundreds of veterans that have gone before us. They will never be forgotten.
I have been a member of the Royal Canadian Legion since 1974, elected to the office of Sgt. at Arms in 1984. I am a proud former member of the Regiment of the Canadian Guards 1960-63. My duties included a member of the Ceremonial Guard on Parliament Hill in 1961. I was posted to Soest German with the 4-CIBG for the remainder of my enlistment.
Our Pipe Band has been in existence for over 58 years, beginning in 1953 as the Caledonia Pipe Band at General Motors under the leadership of Pipe Major Neil McCrae Sr. After many years the leadership was passed on to Neil McCrae Jr. We are a non-competitive street band. We provide a place where pipers and drummers with a wide spectrum of experience can enjoy the hobby of performing good music.
We are proud to be the official pipe band of the City of Oshawa and to carry the banner of the Royal Canadian Legion Br. #43. We are also very proud of our involvement in fund raising for the operational Stress Injury Clinic at Parkview Veteran's Hospital in London, Ontario. Through national and international sales of our C.D. TITLED "Beneath the Vigils" we have raised over $14,000 to assist veterans suffering from operational stress injury.
Our pipers wear the Royal Stewart Tartan and the drum section wears the McCrae Tartan in honour of the founding McCrae Family.
Senior members of the band are: Ian Fraser, Pipe Major and Mal Knocker, Drum Major
_____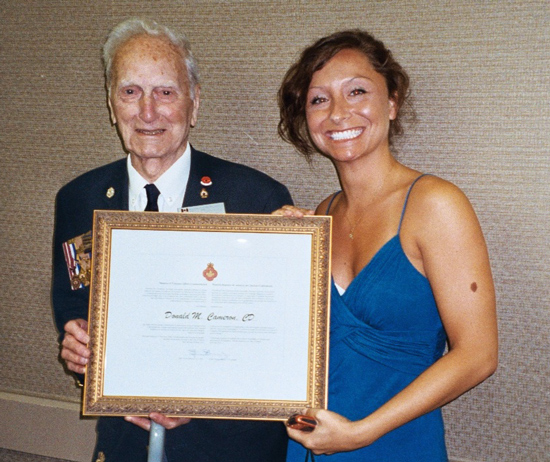 Don Cameron & Granddaughter

On July 27, 2011 Past President of the Warriors' Day Parade Council, and WWII Veteran Don Cameron, was awarded the Minister of Veterans Affairs Commendation from The Honourable Steven Blaney, Minister of Veterans Affairs.. The Commendation is awarded annually to individuals who have contributed in an exemplary manner to the care and well-being of Veterans or to the remembrance of the contributions, sacrifices and achievements of Veterans.
The award presentation program stated, "Mr. Cameron is a Second World War Veteran and Canadian Forces Veteran. He has been an active and tireless member of the Royal Canadian Legion for 65 years. He has been president of Branch #210, acted as deputy zone chair, zone chair, and district chair. Mr. Cameron has also served many years as service officer where has assisted numerous Veterans and their dependents. Today he participates in the Poppy Campaign. As part of the Legion's Remembrance Program, Mr. Cameron visits schools and seniors' residences to speak about Canada's military contributions. On occasion, Mr. Cameron will be at the Naval Reserve Training Division in Camp Borden, in his role as an Honoured Veteran, inspecting the recruit graduates and presenting awards. Mr. Cameron is also past president of the Warriors' Day Parade Council, having been an active participant by attending all executive and general council meetings."
Don was born in Edinburgh, Scotland, in 1920 and immigrated with his family to Canada in 1931. In 1936, he joined the Royal Canadian Signal Corps Reserve and two years later transferred to HMCS York of the Royal Canadian Navy. In September 1939, Don went on active service with the Royal Canadian Navy, serving throughout the war as a communications signaller. Service included convoy duty with the Defensively Equipped Merchant Ships, the destroyer HMCS Ottawa and the frigate HMCS Copper Cliff. Don was released from active service in August 1945 and continued serving with the reserve forces at HMCS York in Toronto.

Don served for 34 years on the Toronto Fire Department, retiring with the rank of Acting District Chief.
Don's credo is, "I will continue to help veterans and their families in every way I can." His actions and decades of diligent volunteer efforts certainly prove this to be true.
Read more about the Minister of Veterans Affairs Commendation.
posted July 27, 2011
_____
Veteran Sgt Robert Thomas Receives
Minister of Veterans Affairs Commendation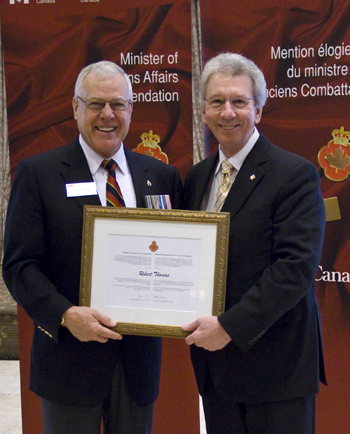 On October 3, 2010, long-time member of The Warriors' Day Parade Council, Sgt Robert Thomas was presented with the Minister of Veterans Affairs Commendation.
Mr. Thomas is a retired Canadian Forces Veteran. A very active volunteer, Mr. Thomas belongs to many organizations. For the past 12 years, he has been a member of the Canadian National Exhibition Warriors' Day Parade Council and for the past 4 years has been Chairman of their Parade Participation Awards Committee. Mr. Thomas is an active member of The Royal Canadian Legion assisting with the annual Poppy Campaign. He supports many Veterans particularly those of the Canadian Provost Corps by taking them to medical appointments, home visits and assisting with funeral arrangements. He is a Charter member of the Canadian Association of Veterans in United Nations Peacekeeping and former Vice President and Secretary of the Canadian Provost Corps Association. In 2000, Mr. Thomas was part of a team that organized the 60th Anniversary of the Canadian Provost Corps and in 2005, organized their Gala Dinner. Mr. Thomas is an active member of the Canadian Army Veterans Motorcycle Unit, which raises funds to aid needy Veterans. As a counsellor with the 3rd Aldershot Scout Troop, Mr. Thomas has delivered countless lectures on the sacrifice of Canadian Veterans and helps to organize the Scout Troop annual Remembrance Service. Mr. Thomas is a member of the Royal Canadian Military Institute, the Canadian Intelligence and Security Association, and the Conference of Defence Associations.
_____
The Toronto Police established their full time Mounted Unit in 1886 to provide a visible police presence in the outlying areas of the city, where prior to this time, police officers were seldon seen. It was quickly apparent that a mounted unit was of great value and additional horses were purchased to expand the unit. As cars began to appear on city streets and the unit was tasked with regulating traffic. Toronto Police sent eighteen of its best horses overseas in World War I for service with the Canadian Field Artillery. Only one of these eighteen horses survived the four years of warfare.
The Toronto Police Mounted Unit has proudly served the citizens of Toronto for more than 123 years. The duties they perform every day throughout the city are just as important today as they were in the beginning. The unit has been an important part of the Warriors' Day Parade right from the first parade in 1921! We are very proud to see them on parade every year.
In 2009, The Warriors' Day Parade established a competition category for Cavalry Units. The Brigadier Memorial Trophy is awarded in this category and is founded in memory of Brigadier, a magnificent horse who was a proud member of the Toronto Police Mounted Unit, tragically struck down intentionally by a motorist in 2006 while in the line of duty.
The Warriors' Day Parade Council proudly salutes the Toronto Police Mounted Unit!
Read an article by Staff Inspector William Wardle, featured in Horse Talk Magazine about the Toronto Police Mounted Unit..........
posted Sep. 20, 2009
_____

The Vietnam Veterans of America
Chapter 20, Rochester, New York Marching Unit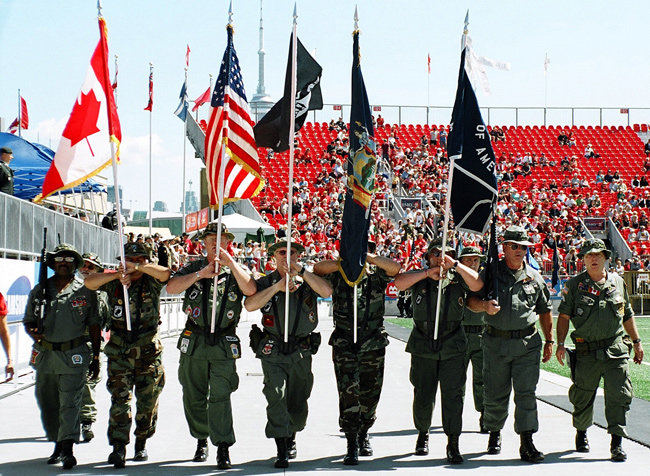 The Vietnam Veterans of America Chapter 20 of Rochester, New York is the largest, most active, and longest standing local chapter of the national Vietnam Veterans of America, Inc., a not-for-profit veterans service organization Chartered by the United States Congress. In 2008, Chapter 20 Marching Unit marked their 22nd consecutive year of participation in The Warriors' Day Parade! For the second year in a row, this proud contingent took home the first place awards in both the Allied and Visiting Marching Formations and Allied and Visiting Units Parade Champions competitions. Chapter 20 have been consistent winners during the past 22 years. The commitment of this contigent in travelling each year to Toronto to participate in the parade is remarkable. A wonderful article about their experiences in 2008 at the parade was published in Chapter 20's October 2008 newsletter, Between The Lines. Thank you to Tim Sturm and Kathleen Gleason of Chapter 20 of The Vietnam Veterans of America for allowing us to make the article available through our website. Members of this contingent tell us each year how much they enjoy visiting Toronto to participate in the parade. We are honoured and delighted to have them and look forward to seeing them proudly marching every August in Toronto for many years ahead! read article by Tim Sturm

posted Feb. 1, 2009
_____