Honorary Parade Marshal 2018
Sergeant John Lo Bianco CD
Toronto Police Service
Toronto Police International Police Peace Operations Program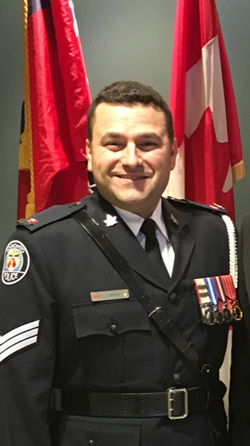 Sgt John Lo Bianco is a member of the Toronto Police Service and has served for the past 18 years. He is currently the Coordinator of the Toronto Police International Police Peace Operations Program. The International Police Peace Operations Program partners municipal and provincial police agencies across Canada with the RCMP. This partnership affords officers from across Canada the opportunity to serve on peace operations identified by Global Affairs Canada.
The Toronto Police Service currently has officers deployed on operations in Iraq and Ukraine. Sgt Lo Bianco is also a veteran of the program having been deployed to Afghanistan in 2012 for a 13 month mission. While deployed he was assigned to the International Police Coordination Board Secretariat (IPCB-S) and worked with the Afghan Ministry of the Interior on police reform.
Sgt Lo Bianco is also the 2nd Vice President of the Toronto Police Military Veterans Association and member of the Chiefs Ceremonial Unit.
Sgt Lo Bianco was also a reservist the Canadian Forces where he served for 16 years with the Toronto Scottish Regiment prior to retiring from the Canadian Forces in 2014.
The Warriors' Day Parade Council welcomes Sergeant John Lo Bianco CD as 2018 Honorary Parade Marshal.