The 2022 Warriors' Day Parade


Saturday, August 20, 2022 10:30am
Canadian National Exhibition
Toronto, Ontario, Canada
In Commemoration of the
100th Anniversary of The Warriors' Day Parade
2022 Warriors' Day Parade Reviewing Officer
Brigadier General John M. Valtonen, MStJ, CD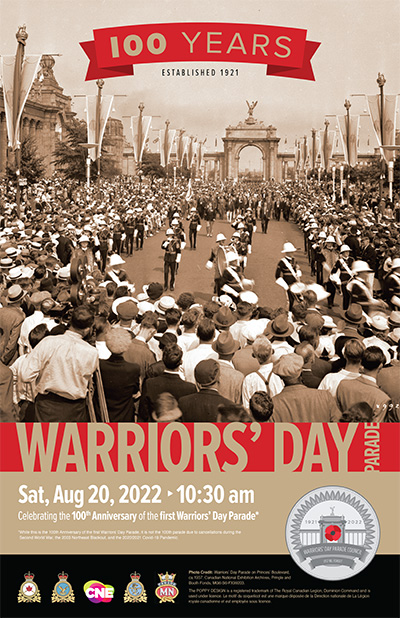 Click on poster image above to download full size pdf
About The Warrior's Day Parade
The Warriors' Day Parade is a unique and spectacular event that includes the colour, sound and traditions of our Regiments and Squadrons as well as the recognition of those who served and those who serve today. Since 1921, the Parade has provided an opportunity to celebrate our military victories. For participants and spectators, it is also an opportunity to show deep appreciation for the priceless gift of freedom given to us by our Veterans and those brave women and men presently serving in the Canadian Forces.
Each year we also welcome many contingents from the United States of America and we look forward to new units joining us in the future.
Participation in the Warriors' Day Parade is open to military, para-military marching contingents and bands, veterans' contingents and military-themed living history/re-enactor contingents. Please see our annual Parade Order for more detailed information.
All members of the public are invited to view the Parade along its' route.
If you have not attended The Warriors' Day Parade before you are in for a very special experience. If you have participated previously we sincerely welcome you back. We look forward to seeing you in August!