Honorary Parade Marshal 2018
Captain (Retired) Mort Lighstone CD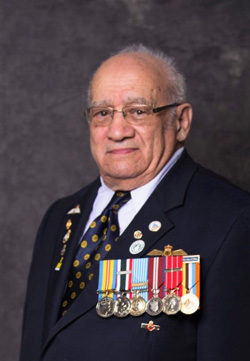 Captain (Retired) Mort Lightsone CD enlisted in the RCAF in 1951 and trained as an air force navigator. Upon obtaining his 'Wings' he was assigned to 426 Transport Squadron. During the next year he flew 1,000 hours on the Korean Air Lift as part of the United Nations forces in that conflict.
Mort's next 'war' experience came quickly when in 1957 in the midst of the Cold War he was transferred to 137 Transport Flight. This RCAF/NATO unit was equipped with B-170 Bristol Freighters. It was based in England as an integral part of the 4th Allied Tactical Air Force. During this four-year tour of duty Mort flew 2,000 hours with 4-ATAF facing the forces of the USSR.
His last flying tour was as a Global Celestial Navigator on 436 Squadron based at RCAF Station Trenton. He flew another 2,000 hours on the C-130 Hercules which include several missions in Vietnam during that conflict.
Captain Lightstone retired after 28 years' service in the RCAF Regular force. Without losing a day he immediately joined the RCAF Reserves continuing to fly on military operations around the world navigating the C-130 Hercules.
Mort subsequently started a second 12-year career as a Senior Manager with the CIBC. Loyal to the Air Force and to Canada he served in the RCAF Suppletory READY Reserve Force until he was 65 with total military flying time recorded in his 'Log Book' of just over 6,600 hours.
Last November he became a co-author of the bestseller "EVERYDAY HEROES".
The Warriors' Day Parade Council welcomes Captain (Retired) Mort Lightstone CD as 2018 Honorary Parade Marshal.