Honorary Parade Marshal 2018
Major (Retired) Wayne R. Mac Culloch, CD, B.Eng., M.Sc., P.Eng.
National President, Canadian Association of Veterans in United Nations Peacekeeping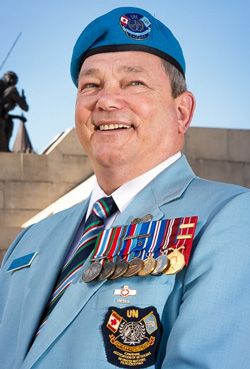 Wayne joined the Canadian Army on 5 January 1968, a month before Unification, as a Gunner in 2 Field Regiment, RCA, Montreal, and was deployed as a Vital Point guard during the October 1970 Crisis. Following this, he enrolled in the Royal Military College Kingston, receiving a Bachelor of Engineering degree in civil engineering in 1975. Of all of his experiences during this period, the standing invitation to join the Drill Staff for coffee and the mentoring and guidance they provided are his most cherished memories.
Following graduation from RMC, Wayne served in numerous field, garrison and staff positions for the remainder of his 41 year career in uniform. Memorable experiences include the construction of airfields in the Arctic, service with the Reserves as Regular Support Staff and Commanding Officer, the closure of Bases and transfer of units in the 1990s, and service overseas on five missions (four in Bosnia and one in Haiti.) When he asked for a sixth tour, this time in Afghanistan in 2003, he was told, "You've had five missions – you have to give someone else a chance!" As a consolation prize, he was appointed Commanding Officer of 45 Field Engineer Squadron in his native Cape Breton.
On his release from the Canadian Forces, Wayne work for Public Works and Government Services Canada on Parliament Hill for a year, restoring its historic buildings, before joining Defence Research and Development Canada, as its Major Capital Program Manager, responsible for both construction and equipment projects worth in excess of $1.5B.
In his spare time, Wayne is active in a number of charitable organizations and Veterans' endeavours. He joined the Canadian Association of Veterans in United Nations Peacekeeping (CAVUNP) in 1998, becoming the President of the Colonel John Gardam Chapter (Ottawa) in 2010, and has organized the National Capital's Peacekeepers' Day ceremonies on 9 August ever since. In September 2014, he was elected National President of the Association, and is heavily involved in an advisory role to Veterans Affairs Canada.
A happily married man of many decades, Wayne has three grown children and four grandchildren (with a granddaughter on the way). His son, Cpl Don Mac Culloch, is currently serving with 2 Combat Engineer Regiment in Petawawa.
The Warriors' Day Parade Council welcomes Major (Retired) Wayne Mac Culloch CD as 2018 Honorary Parade Marshal.